Here are all the cute photos of Jimin with animals – You're welcome
BTS's Jimin is utterly adorable. Once you add some cute animals to the mix, it's game over. Jimin mentioned his adoration for cats & dogs. Although he's the only member of BTS currently without a pet, he clearly loves to snuggle the ones he comes across.
jimin with animals is my love language
pic.twitter.com/S7GNsCYAZS

— jimin's #1 shooter⁷ never sleeping again (@otherchanel) September 24, 2019
(We completely agree with this fan on Twitter. . . Jimin with animals is also our love language.)
Here are a few photos of Jiminie looking cute as a button with some furry friends:
Curry from "Serendipity"
Curry the calico cat looked as snug as a bug in a rug on Jimin's lap. The furry feline was featured in the music video for Jimin's solo song "Serendipity". According to a blog post from the owner, Jimin took the initiative to get closer to Curry before they started shooting. He wanted to make sure she wasn't too scared & uncomfortable in an unfamiliar environment. (What a cutie pie!)
Jimin and Polly in that dogs run ep was the cutest thing he would be the best pet owner 😔 pic.twitter.com/8crNglPlHt

— ᴶᶦᵐᶦⁿᶦᵉ ⁷ (@JJMOCHIJJ) March 10, 2019
Poly from
Run BTS!
In episode 23 of Run BTS!, the idols were paired up with dogs to do tricks & run an agility course. The dogs were able to choose their BTS member. The first dog, Poly, chose Jimin. (Poly's got good taste!) Poly made the right choice – it was a match made in heaven!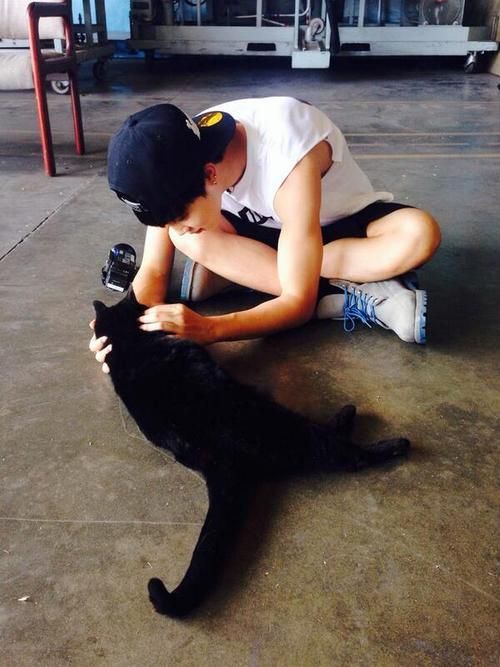 Curious Cat
When BTS was filming American Hustle Life, Mochi won over this curious black cat. Jungkook tried to play with the cat, but was rejected. (Poor maknae!) Jimin was obviously its bias! Jimin was as happy as could be, but Jungkook must have been feline sad. (Ok, that was a bad one.)
Little Sung-dol
Jimin introduced himself on My Pet Clinic while holding pup Sung-dol. He popped his head out of a door on the set holding the little dog, and one of the show's hosts yelled out "Ahhh cute!!!!". (We had the same reaction.) Jimin appeared to be perfectly happy to hold her for as long as possible, but he had to share with fellow dog lovers J-Hope & V.
Lucky lamb
Jimin held a baby lamb in New Zealand on "Bon Voyage" season 4. He took turns with Jungkook. Jungkook held the lamb first while Jimin acted like a dad taking photos of his son. Then it was Jimin's turn to hold the lamb. Although it was for a very short period of time, it was an experience that Jimin will not soon forget (and neither will we).
OH HOW I WISH I WAS A CAT pic.twitter.com/9CCk0ilPjG

— JM Updates (CLOSED) (@jiminupdates) July 31, 2017
Brandley the cat
Jimin & Brandley the cat met while taking photos for BTS's 2017 Summer Package. The pair instantly became the best of friends. The photos were super cute and yes, that was genuine joy coming from the BTS idol. He loved to play with Brandley even when the photoshoot was over. (We've never been jealous of a cat. . . until now)
Season's Greetings doggo
Everything about this photo from BTS's 2015 Season's Greetings photoshoot is paw-fect. Jimin looks like an angel, the dog is living its best doggo life, and the rug is really beautiful. (We know no one else cares about the rug, but it's too gorgeous to be left out, ok?)
Buzzfeed
puppy
(We had to save the best for last!) Everything about the Buzzfeed video of BTS playing with puppies is superb, especially Jimin & his puppy. He didn't let go of the little pup the entire time. When the puppy licked Jimin's face, RM said, "Heart attack". . . (same). It was too cute! (We can't believe he didn't take the pupper home with him!)
—
Jimin has said he often watches animal videos and it heals him up to watch them. (These pictures heal us up to look at them.) Which is your favorite? Comment below!