Long live Lucifans! Why 'Lucifer' deserved to be saved for S4
Be prepared for Tom Ellis to emerge as Lucifer in 666 hours. Season 4 of Lucifer is set to drop on Netflix this May 8th, 2019. Netflix revealed (all) with a sex appeal-laden teaser featuring Lucifer himself rising from an LA swimming pool.
Fox famously canned Lucifer last summer, leaving fans speaking in tongues after S3 ended on an insane cliffhanger in which Detective Chloe Decker (Lauren German) finally glommed onto the fact that her partner Lucifer Morningstar is actually Lucifer Morningstar the Devil. (Duh – how many more hints could the cloven-hoofed one give her?)
Anyway, all was well that ended well; the fandom stormed the gates of hell with the #SaveLucifer hashtag and Netflix flew in like Amenadiel himself and saved the show from God's clutches.
Prepare to join our favorite fallen angel in a sticky situation, torn between two angry broads. On the one hand he's got a lot of damage control to do regarding Chloe's discovery, but another monkey wrench in the works awaits as Eve (Inbar Lavi) has fallen back into his life and he has to work out just why she's so mad at him (original sin, perhaps). Things sure look complicated for the old devil.
EW had a chance to chat to Tom Ellis last year and he had some pretty fiery thoughts on what Lucifans are about to see. "This is without a doubt our strongest season . . . for many reasons . . . . This season [contains material] we've never really dealt with before because there was always this conceit that no one believes Lucifer is the devil. But now that is common knowledge amongst some of our major characters."
Before we go absolutely crazy getting excited for what lies ahead, here are all the reasons we think Lucifer is such a fantastic show, and why the Lucifans were right to fight for it to be saved.
When the fantasy crime-drama mashup Lucifer was left lingering in TV purgatory after Fox axed the show in what can only be described as a baffling strategy for its 2018-2019 schedule. The network's decision to pull the rug after three successful seasons was met with shock, particularly for the show's lead Tom Ellis, who at the time told TV Line: "I had just left a room full of love, of adulating fans, when he (co-showrunner Joe Henderson) said the show was over. I was like, 'What?'
"Honestly, I was a bit shocked. I went into some weird shock. I just wasn't expecting it, it really pulled the rug. And then it really went through me, how much I cared about the show, and I was really, really sad. I couldn't quite believe it."
Neither could the so-called Lucifans, who were equally as dumbfounded with Fox's decision.
After all, for three solid seasons Lucifer received nothing but praise from its deeply devoted fandom who found escapism in the police procedural drama with a satanic twist. Rubbing salt on the wound, the finale "A Devil of My Word" ended on an abrupt cliffhanger, with Chloe (Lauren German) finally coming face-to-face with Lucifer's true nature. With season four on the flaming horizon, why did Fox cut it now when there was so much more of the story to tell and so many places for these characters to go?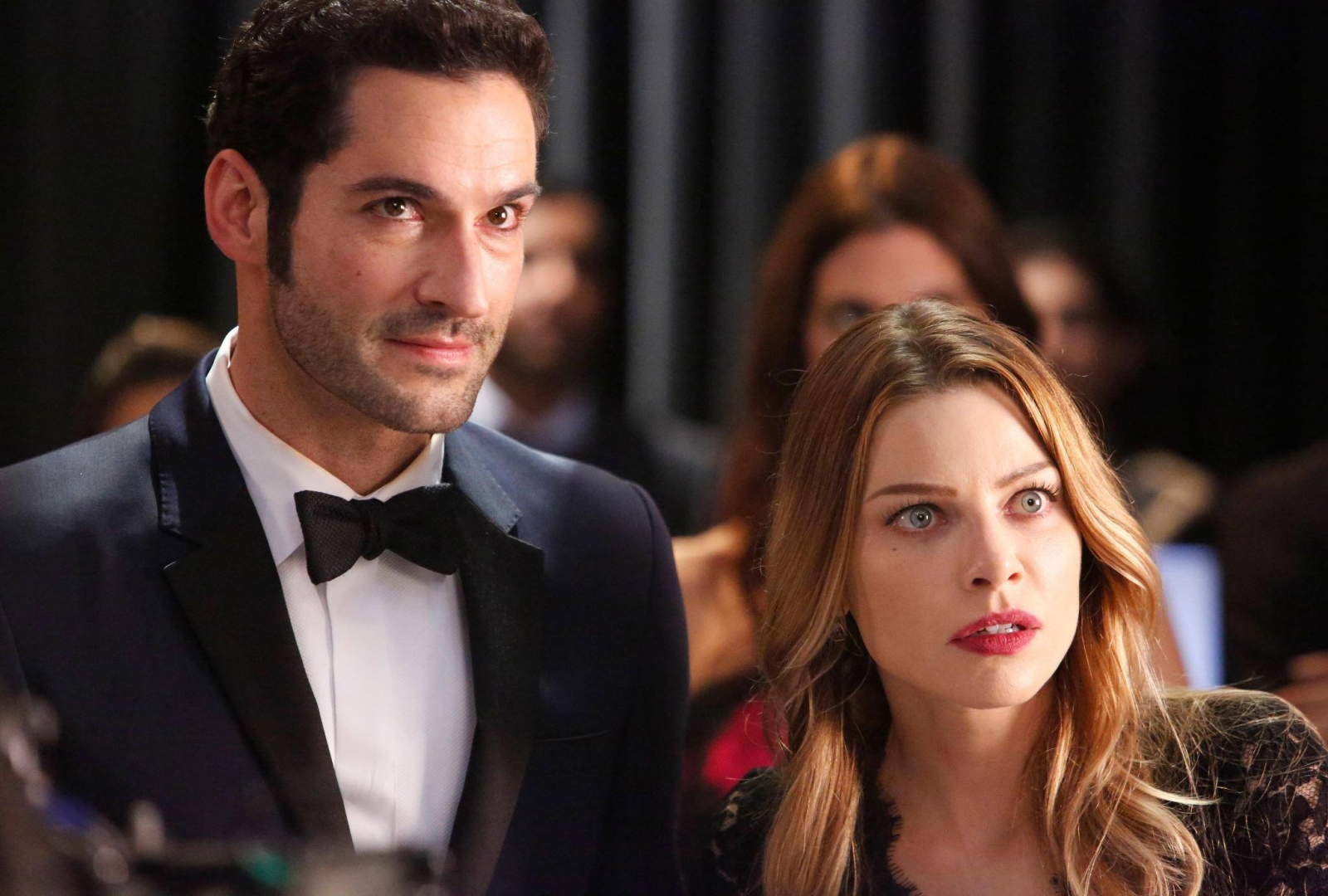 Fortunately, we live in an age when the power of the fandoms are alive and well and news of Lucifer's cancellation was met with an outcry so loud, you could hear it from hell. Inspired by Fox's equally baffling Brooklyn Nine-Nine cancellation, which led to a fandom backlash and a subsequent rescuing from NBC, the Lucifans launched the #SaveLucifer campaign.
In addition to numerous Change petitions, including one that drew in over 300,000 signatures, Lucifer's minions focused their plea on pitching the show to other networks and streamers. "The weird thing was when the news broke (about the cancellation), that's when I started feeling better, because the response has been nothing short of ridiculously overwhelming," declared Ellis.
As has been shown by numerous other campaigns of a similar flavor – Shadowhunters, Timeless, and One Day at a Time to name a few – live metrics are no longer an accurate way to judge a show's success. We all watch TV on a variety different platforms and SVOD services; gone are the days when the only way to catch up on the next episode of your favorite show had to be done by watching it live.
We bingewatch, we dip in and out, we tune in at later dates – fluctuating viewing patterns doesn't determine a show's popularity. "Since doing Lucifer, I've done press in various parts of the world, and I'm fully aware that this show is much more popular than what it had seemed to be on Fox," noted Ellis, "Our figures suggested that lots of people watch the show, just not necessarily on Fox."
Perhaps no one understands this better than the streaming sites, as they continue to contribute to the disruption of the TV landscape. Swooping in like a fallen angel, last month it was Netflix that made a deal with the devil and picked up Lucifer for a fourth season. A victory, not just for Lucifer's lovers, but also for the power of fandoms overall.
It's these acts of defiance that show TV networks no longer hold all of the power over what stories get to be told. And if a network like Fox tries to play God and throw a bolt in the way of one of its hit shows, the fans no longer have to sit back and accept that the story's over.
As I close out my bazillionth #SDCC, I'd like to extend another heartfelt THANK YOU to all the #Lucifer fans who helped make our @Netflix resurrection a reality. We're hard at work on Season 4, and hope you binge us in 2019! ? #SaveLucifer #LuciferSaved #ComicCon2018 pic.twitter.com/dPDBlfbeP7

— Chris Rafferty (@chris_rafferty) July 23, 2018
The Netflix deal meant Ellis could attend this year's San Diego Comic-Con to celebrate rather than to mourn. It also meant we were given some tasty little breadcrumbs about the fourth season which we were more than willing to gobble up like the hungry little bingewatchers we are. As part of the TV Guide Fan Favorites panel, Ellis was asked about the two bonus Lucifer episodes "Boo Normal" and "Once Upon a Time", which were meant to be part of Fox's season four and were played in the wake of the #SaveLucifer campaign.
In particular, fans wanted to know if there were any hints on the Deckerstar relationship. However, Ellis explained that because of the whole network switcheroo, unfortunately he couldn't discuss any storylines – not because they're top secret, but because he hasn't seen the script yet.
That said, in an interview at Comic-Con with Entertainment Weekly, Ellis shared that the major change during the leap from broadcast TV to streaming is the length of the season. "I'm excited about the fact that we are 10 episodes now as opposed to 22, which means we can get right down to the storytelling, and every episode will count," Ellis explained. "From my point of view as an actor, that's great."
Before you start channeling those devilish thoughts and wondering why the fuck Netflix wants to cut the show so drastically, Ellis has high hopes that the shorter season length won't mess with the structure. "One of the things that we have to be careful about as well is that the reason the show was so popular was because of the way it was. We don't want to mess around too much with that."
But the biggest and no doubt most exciting news for the adoring Lucifans out there is that the show movie over to Netflix means there are less restrictions. Which means yes – there could be nudity. We've already got a glimpse of it thanks to the wonderful Ellis-worshipping preview that just dropped.
"Obviously, there are certain different boundaries that we can play within now. I think Joe Henderson, our showrunner, has been adamant that he wants to have my bum on screen for three seasons and now we can finally do that," said Ellis.
And if the thought of an Ellis-shaped moon spread across your laptop screen doesn't make you squeal with glee, we don't know what will.