'Eighth Grade': Why everyone needs to see this cringetastic movie
With eighth grade being nothing but a faded memory for most of us, it can be easy to forget that it's not as lit to be young as is portrayed on social media. In fact, for most of us, being thirteen was confusing, scary, and downright awkward.
Comedian-turned-director Bo Burnham encapsulates this graceless yet beautiful period in a person's life and so much more with his Sundance hit Eighth Grade: an honest, empathetic, and utterly charming story of a girl living out the last week of her eighth grade year and discovering who she is as an individual (at least a little bit).
Moving beyond the tired tropes of poking fun at "kids these days" and avoiding facile criticisms of the narcissistic selfie generation, Burnham instead paints cringetastic and hilariously honest portraits of his pre-teen subjects that, despite focusing on Generation Z, are relatable to anyone who has ever tried to find themselves in the perception of others.
As Vox described it, Eighth Grade captures the feeling that everyone is looking at you and thinking about you, and that overwhelming desire to appear as attractive to their gaze as possible. "Not necessarily sexually attractive — just cool enough to be liked by the people around you."
For the most part, Eighth Grade is a comedy that provokes laughs of recognition. Our lead Kayla (Elsie Fisher) is that acne-ridden underdog we all root for – a student so bashful, she's voted "Most Silent" at her end-of-year school ceremony. But actually she's not quiet at all, as we find out by her inspirational YouTube videos and her active Insta account.
Like many teens the world over, Kayla is fascinating and filled with charisma – she just doesn't yet have the confidence to show it and, more importantly, to shift her focus away from those around her. "Kayla may spend her webcam time delivering filibuster-length testimonials on how to be confident and access 'the real you'," noted Vulture, "but in real life, she hasn't figured out how to do any of those things." Yet.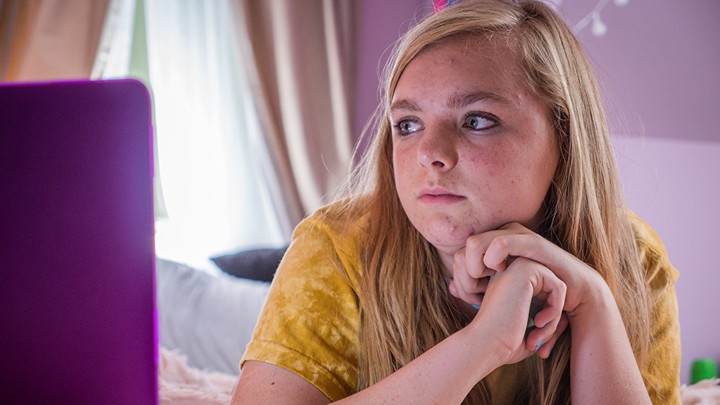 As the narrative progresses, we see Kayla flirt with her interest in one of puberty's most elusive mysteries: the opposite sex. When her crush, classmate Aiden (Luke Prael), asks her if she gives blow jobs, Kayla says "yes" before running home to research just what the f*** she's said yes to on YouTube.
It's moments like these that prove Burnham's ability as a writer, embarking the wisdom that the eighth grade is a state of mind most of us have not yet grown out of.
After all, isn't Kayla's desperate Google search symbolic of the roles we play in our day-to-day lives? Pretending to know what we're doing when in actual fact we are just blagging our way through work, familial life, and relationships. In this sense, Eighth Grade is utterly timeless.
But it's also a topical film, one that Burnham has admitted echoes Hollywood's #MeToo moment. One scene in particular sees Kayla tag along with her new buddy Olivia (Emily Robinson) and a group of older kids to the mall.
On the way home, Kayla finds herself alone with Liv's friend Riley (Daniel Zolghadri), a guy four years her senior, in a game Truth or Dare that is fraught with anxiety and apprehension from her side.
Culminating in Kayla refusing to take her top off and Riley sliding to the front seat of his car in frustration, she apologizes (despite having done nothing wrong) as Riley condemns her future sex life and assures her that he could've saved her from embarrassment. If only she'd given it away to him.
While the scene is undoubtedly uncomfortable to watch, you can't help but feel reminded of similar real-life events that have been exposed in the wake of Hollywood's sexual harassment scandal. Vulture pointed out, "As Riley relentlessly cajoled Kayla, I recalled that awful audiotape of Harvey Weinstein attempting to gaslight a model into entering his hotel room."
Burnham agrees, stating during a post-premiere Q&A that these scenes reflect a type of toxic male behavior that advertises itself as sweet and understanding and sensitive and is anything but. "Without getting too specific, the idea of being young and taken advantage of by someone older than you is not foreign to me personally. I felt that it's true, it's something that happens, and it needs to be shown."
The adolescence of a female teen and her experiences that offer commentary on an ongoing debate regarding consent and underage sex – these are not matters to be taken lightly.
And while you could argue it seems somewhat regressive to have a male behind the lens for such a story, Burnham's aforementioned experiences and his past career as a YouTube star have given him the knowledge he needed to overcome any storytelling weaknesses that could've arisen.
As The Guardian wrote in its review of the film, Burnham knows "what it is like to grow up online and there's authenticity infused throughout." Eighth Grade is a rite of passage you don't want to miss out on.